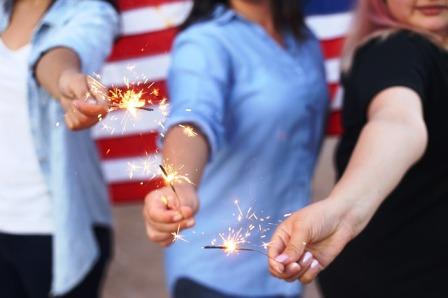 Happy 4th of July from Newport Coast Pool Service
It's almost time for Independence Day parties and celebrations. Beachside Pool Service, the Newport Coast pool service that cares, wants you to enjoy a great day at the pool. Here's a few ideas to help get your party rolling.
Beverages
No party is complete without a cool beverage. Here's some ideas for red, white, and blue themed alcoholic and non-alcoholic drinks to sip poolside.
Sangria
Its wine, its fruity, its flavorful, its perfect for the next pool party. This sangria starts with white wine and uses fruit to provide the red and blue. Add just a bit of vermouth if you want a drink on the drier side.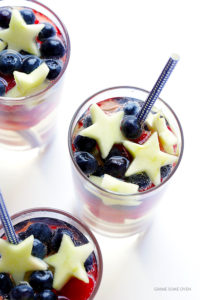 Grab the recipe over at GimmesomeOven.Com or just use the picture for inspiration. To get really great sangria, make sure you get really great fruit and give the fruit and wine a chance to party before the party starts. Add bubbly liquid as you serve to keep it light.
Red White and Blue Ice Cubes
It doesn't matter what you are drinking when you pour it in a tall, clear gla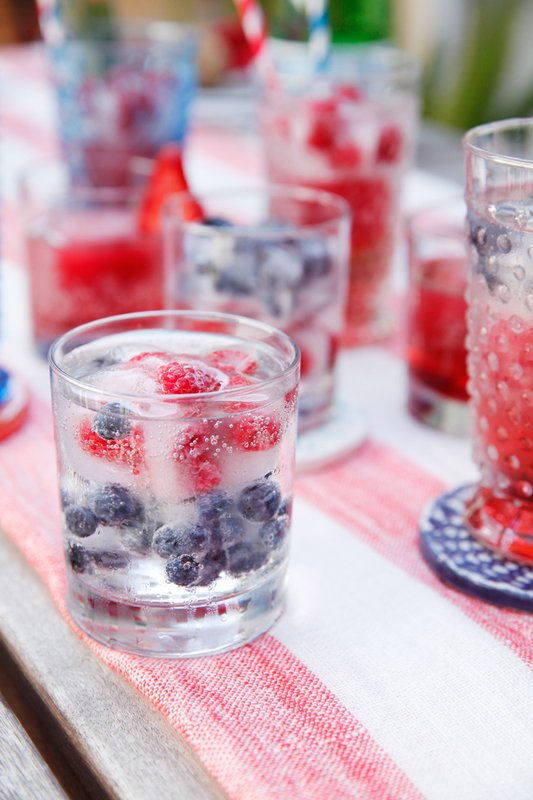 ss with these ice cubes.
Add strawberries or raspberries to ice trays and fill with water. Place blueberries in the bottom of ice trays and fill with water. Freeze and you've got ice cubes that make any drink look and taste better.
If you need an actual recipe or want the low down on star shaped ice cube trays, get the details over at Mom.me for more than you ever want to know about 4th of July fruity drinks.
They've also got a great way to make red ice cubes with cranberry juice.
Food
Poolside food should be easy. These bites combine all the tastes of summer with the easy poolside entertaining to make a perfect 4th of July picnic.  Just add cold watermelon or grapes for dessert and you've got a feast.
Salad/Appetizer
There should be more salad on sticks. Delish agrees and came up with these super simple but oh so tasty Caprese Bites.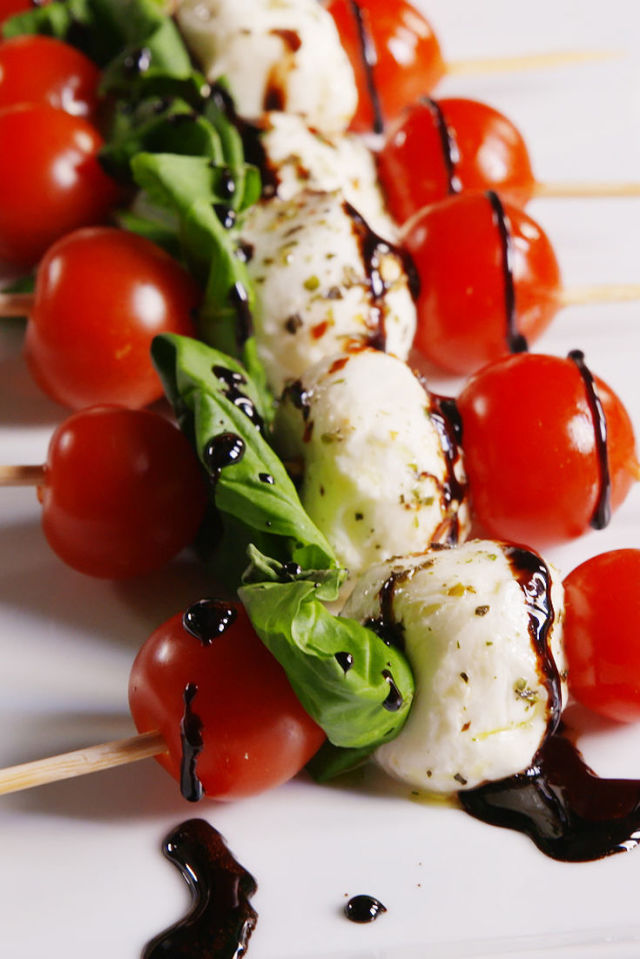 Traditional Caprese salad makes the most of bountiful summer produce like ripe tomatoes and fresh basil.
Skewer these with soft and salty mozzarella and drizzle with oil and vinegar for tiny salads on a stick.
Whether you use buffalo or cow's milk cheese, your friends and family are sure to rave.
Get the recipe over at Delish.Com.
Bacon Cheddar Ranch Corn on the Cob
Yes, you read that right. Bacon, cheddar cheese, and ranch dressing all in one dish. What's not to love?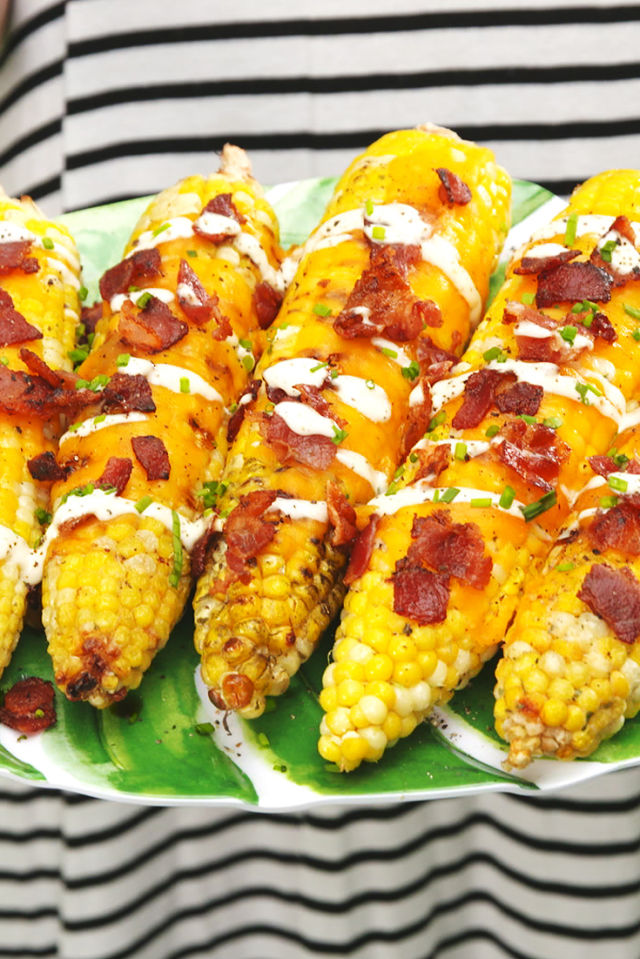 Did we mention the butter and chives as well? There is something about the crunch of grilled corn that just doesn't compare to boiled or steamed corn. With a little advance prep, these tasty ears are no trouble at all.  Delish calls them the Best Cheddar Bacon Ranch corn and we agree.
San Diego Grilled Chicken
Why grill boring burgers when you can whip up Southern California style chicken in a flash? It's like sweet and sour chicken with the zing of citrus and just a touch of heat.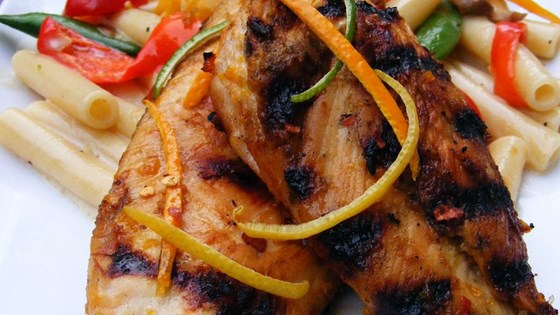 Nothing says California like citrus and this chicken is swimming in it. Just marinade the night before and grill it up with the corn. Get the recipe for this delicious San Diego Grilled Chicken over at All Recipes.
Floating Fun
Why must a good game of beer pong be confined to the poolside deck?  Why indeed? Over at Skip's Garage they've come up with a floating beer pong table.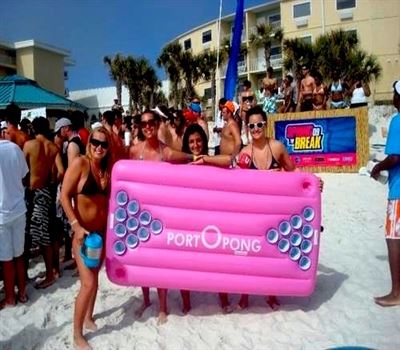 If family fun is more your style, then throw together a game of 13 Colonies. In this racing game, you set up cups representing the 13 colonies on one side of the pool.  On the other side of the pool (I mean the Atlantic Ocean) you place a large bucket of marbles. Racers must swim 13 marbles across the ocean and deposit them into their colony cup on the other side without dropping the marbles or tipping their cup. First swimmer to get 13 marbles in their cup wins. Want to make it a real challenge? Limit the number of marbles a swimmer can carry on each trip!
Celebrate Independence from Pool Care with Newport Coast Pool Service
Beachside Pool Service cares about you and your family. We want your pool to be a blessing and not a headache. So, break free of the pool care hassle and hire the best Newport Coast pool service. Hire Beachside Pool Service and leave your pool worries behind.
Happy 4th of July from Beachside Pool Service