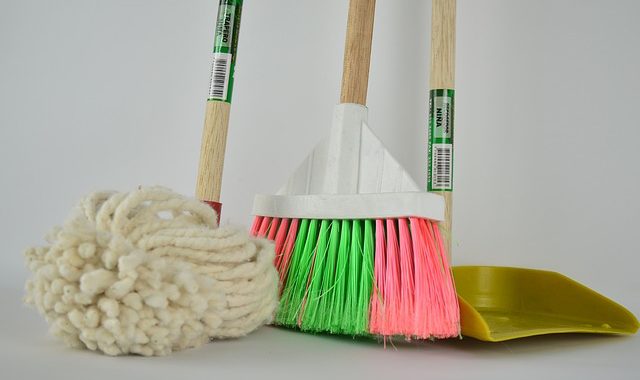 Laguna Beach Pool Service Spring Cleans Your Pool
Spring is almost here.  Monday, March 20, 2017 will be the first day of Spring.  Are you ready for some Spring cleaning? You may think Spring cleaning is just for the house, but Beachside Pool Service is the Laguna Beach Pool Service that will Spring clean your pool.
Deep Cleaning for Spring has Deep Roots
The habit of Spring cleaning has deep roots in history.  Before modern architecture improved the way we live and our indoor environment, homes could get pretty messy during the winter.  Fireplaces and stoves were used for heating.  They may have used wood or coal for fuel.  Either way, it created a coat of soot inside the home.
Spring was the time the weather would finally permit doors and windows to be opened.  This cleared the air and provided temperatures warm enough for serious scrubbing.  Walls, window sills, and all furniture was scrubbed to remove the traces of soot and ash that accumulated over the winter.  Curtains were washed and hung to dry to remove soot as well.  The entire home would be scrubbed to remove all traces of the residue from winter's heating and cooking.
While our modern heating and cooking methods don't leave behind a layer of soot and ash come Spring, we will continue with the tradition of deep cleaning.  This Spring, don't leave your pool out of the Spring clean routine.
Acid Washing Your Pool
If winter debris has left your pool with stains, it might be time for an acid wash.  Acid washing your pool isn't something you need to do every year.  But when stubborn stains resist chemical cleaning and scrubbing, the only way to get them out might be acid washing.
Acid washing actually removes a very fine layer of the pool finish.  You want to make sure you hire a Laguna Beach pool service that has the skill and training to acid wash without damaging the finish.  The chemicals used to acid wash (muratic acid) must be handled carefully and disposed of properly.
Jared Benson, owner of Beachside Pool Service, is an NSPF certified pool and spa operator. He can acid wash your pool without damage.

Pool Tile Cleaning
Calcium and magnesium salts in pool water leave a white film on pool tile. Body oils, suntan lotion, and other personal care products build up on pool tile as well.
Weekly brushing of the pool tile slows the build-up down, but it doesn't eliminate it completely.  From time to time there is no substitute from cleaning the pool tile.  Your pool tile will look better with a Spring cleaning from Beachside Pool Service.  Pool tile cleaning isn't a do-it-yourself job.  Use the wrong material or method and you can damage the tile.  Beachside Pool Service can clean your ceramic or glass tiles using the safest methods available.  Whether it is bead blasting or soda blasting, even the softest tiles can be cleaned without damage.

Schedule  Laguna Beach Pool Service in Spring for a Beautiful Summer
If you want your pool to look its best this summer, call Beachside Pool Service now and schedule a Spring Cleaning.  In addition to acid washing and tile cleaning, Beachside is the Laguna Beach pool service for:
hot tub service
fountain cleaning and service
spa cleaning and service
pool heating
salt water conversions
pump repair
DE filter cleaning
and more!
Call (949) 939-0023 today and schedule your free estimate. Spring Clean your pool with Beachside Pool Service.