Beautiful Pools Are Our Passion!
Beachside specializes in maintenance, repair and restoration of pools large and small along the Orange County coastline. We know exactly how to maximize the function of your equipment and beauty of your pool, spa or fountain in the unique climate near the coast. I love Newport Coast and take pride in the responsibility to maintain beautiful pools in this beautiful community. For example, the owners of this lovely home in Newport Coast needed pool tile repair and weekly pool maintenance service that would help optimize their pool's beauty to compliment their home. Beachside Newport Coast Pool Service to the rescue! You can contact us or check us out on Yelp for any information you need!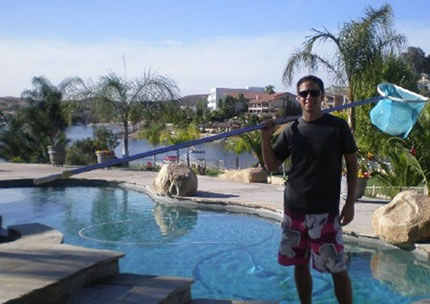 Beachside pool service is driven by customer satisfaction. Any time we can turn a headache into a blessing, the way your pool was intended, we've done our job. A compliment or a referral to a friend or neighbor lets us know we are on the right track. Every customer provides us another opportunity to reach that goal. We strive to maintain a happy and healthy resort feel in your back yard!
We have found success in the pool industry by being honest, reliable, and doing what we say we will do. A company built on integrity may be hard to find when looking for a pool service provider in Orange County, but that is the backbone of Beachside Pool Service. Our clients are people with families who deserve to get the best service for their dollar.  When you hire us, you will see that we value our clients and work to eliminate any hassle they might have from pool ownership.  We just want you to love having your pool, spa or fountain!  Let us handle any equipment repair or concern. We are here to help!
Beachside's #1 concern is to keep you and your family safe.  Pools are often the reason you bought your house, so keeping them clean and ready to use at any time is very important to us.  We promise to deliver a fair price while offering you the best service and latest in technology. That way you can relax and enjoy your pool with family and loved ones!